The Story of the S.S. St. Louis (1939)
In an effort to flee Nazi Germany, more than 930 refugees sailed from Hamburg on May 15, 1939 on the S.S. St. Louis and reached Havana, Cuba, on May 27, 1939. Arrangements for the voyage were organized independently by the Hamburg-American Line, without the involvement of any Jewish organizations. After the Cuban government refused to honor the refugees' accredited landing documents, however, JDC became involved in negotiations with the Cuban government. These discussions unfortunately failed, as did efforts by JDC to find a haven for the desperate refugees elsewhere in the Americas. After 12 days of waiting, the St. Louis sadly headed back to Hamburg with 907 passengers.
While the St. Louis was on the high seas, JDC, in close cooperation with other groups, negotiated with the governments of Holland, Belgium, England, and France to accept the refugees until homes in other countries could be found. JDC posted a cash guarantee of $500,000 ($500 per refugee) in order to make the arrangement feasible and to cover upkeep costs wherever necessary. When it reached Europe, the ship was able to dock in Antwerp, where the passengers disembarked.
In England, JDC continued to support the last of the St. Louis refugees until 1948, but in France, Belgium, and Holland, the Nazi occupation reduced the channels of outside aid and ultimately brought those routes to a standstill. After the occupation of France, some St. Louis refugees escaped to Switzerland. But there were others who had returned to Europe on that fateful ship who ultimately met a tragic end in concentration camps.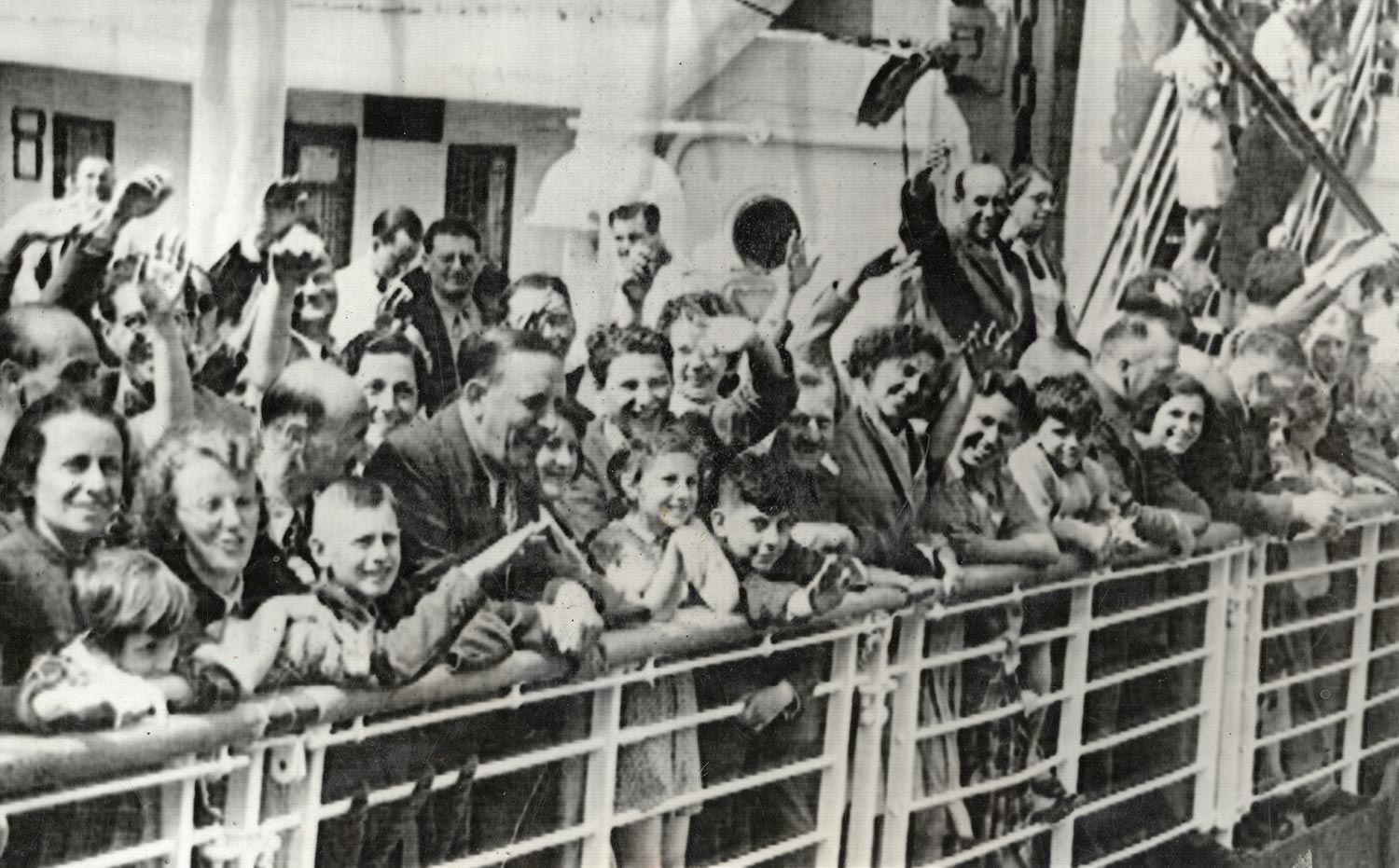 View rare footage of the voyage of the St. Louis documenting the desperation and short-lived triumph of the passengers:
Bound for Nowhere: The St. Louis Episode (excerpts), 1939.
Refugees leave Nazi Germany for Cuba; refused entry there, they sail to other countries where JDC secured last-minute immigration.
Following are source materials in PDF format that can be used to teach about this series of events and its lessons: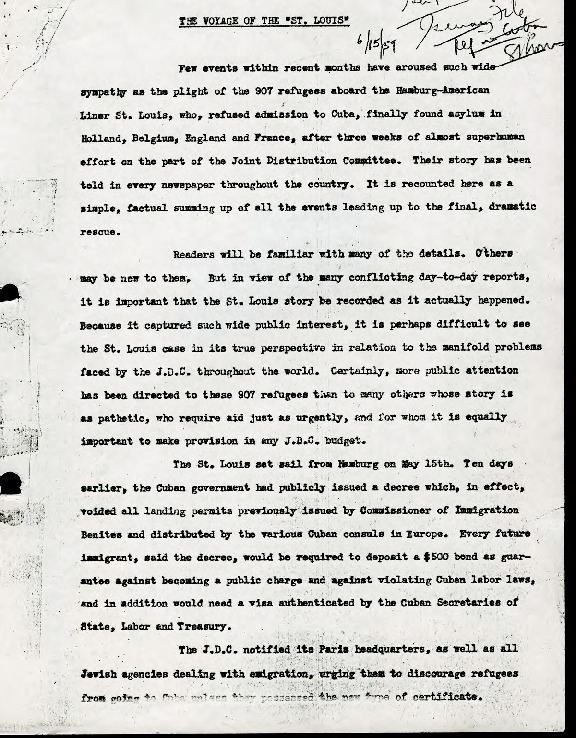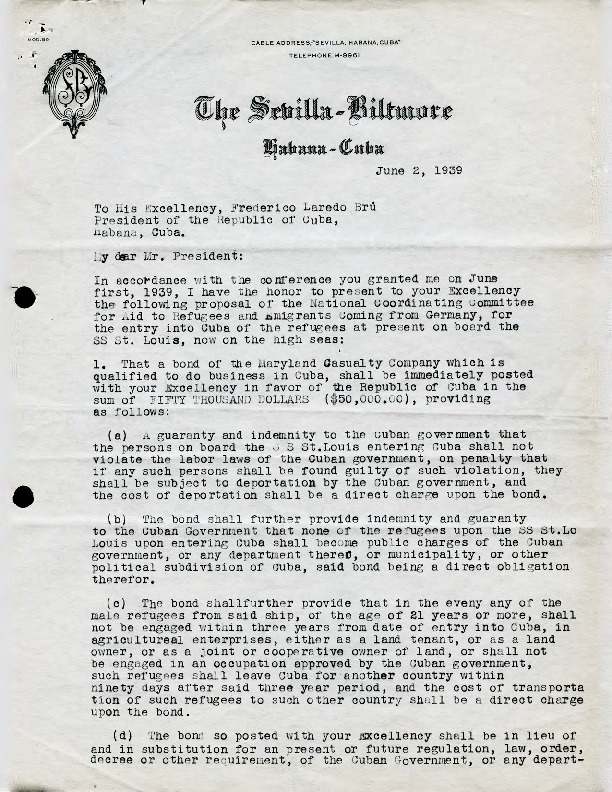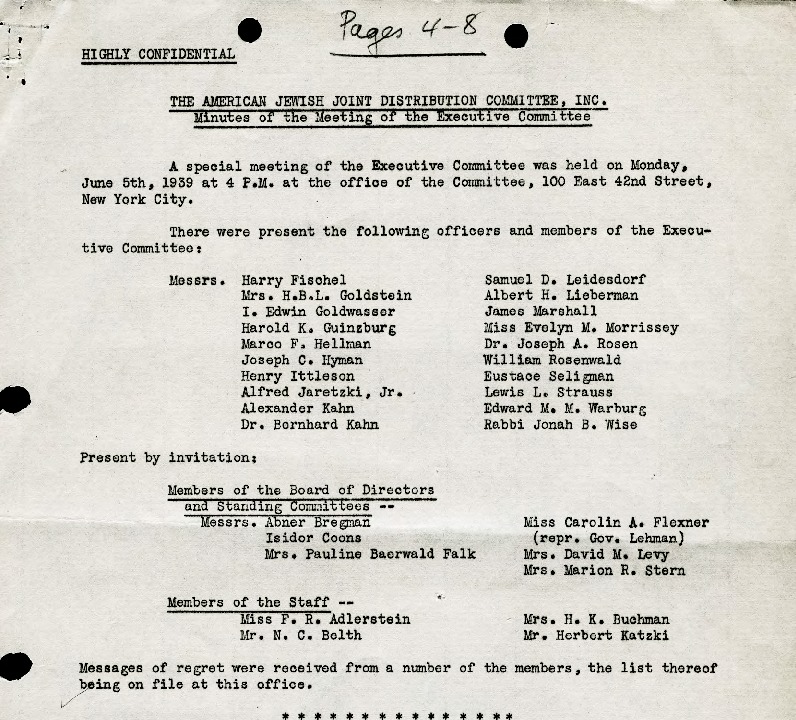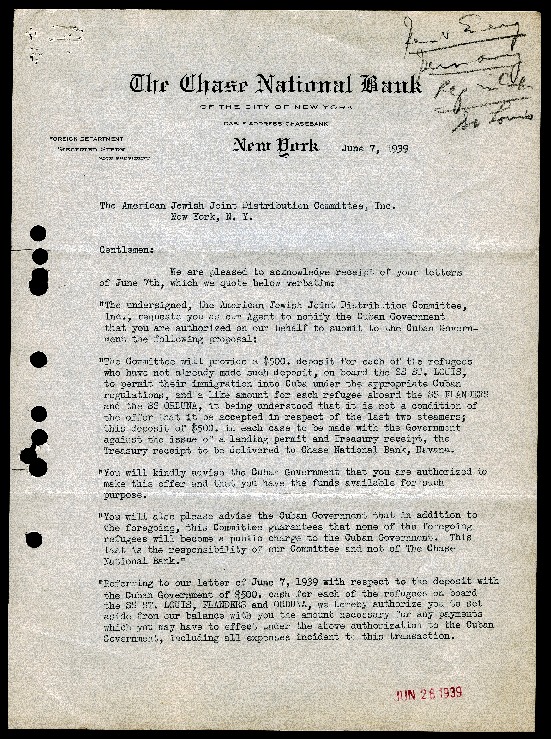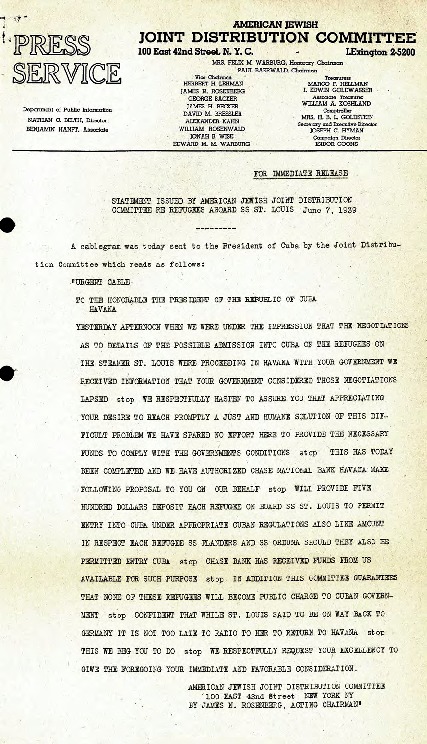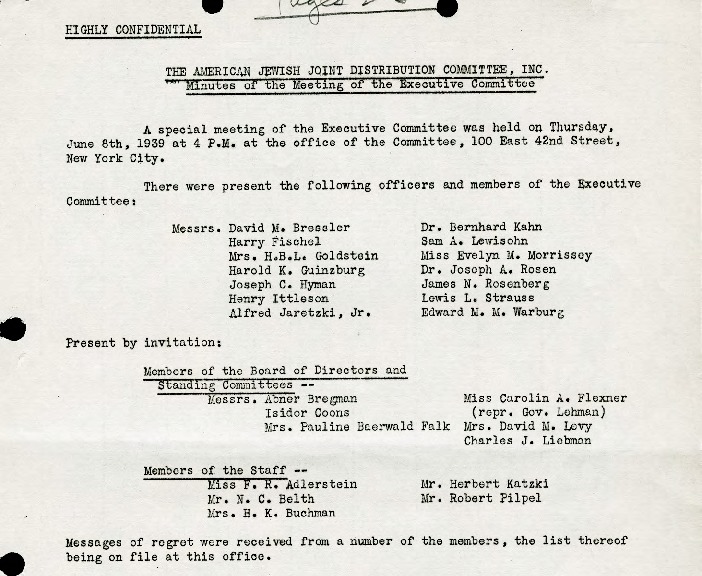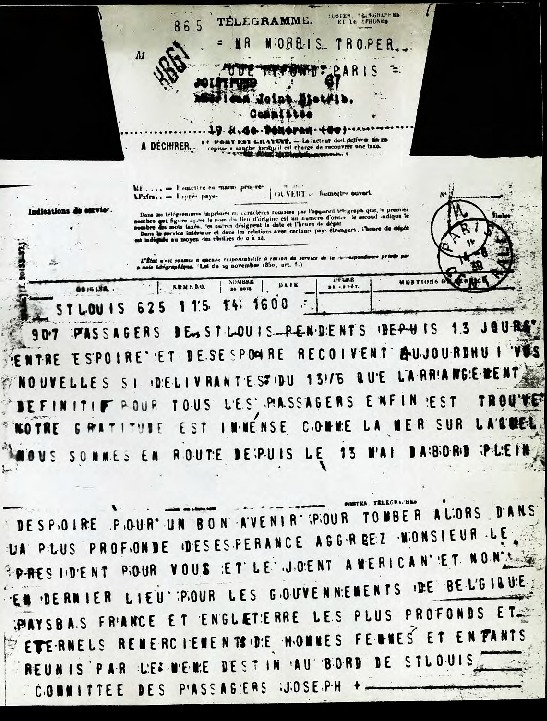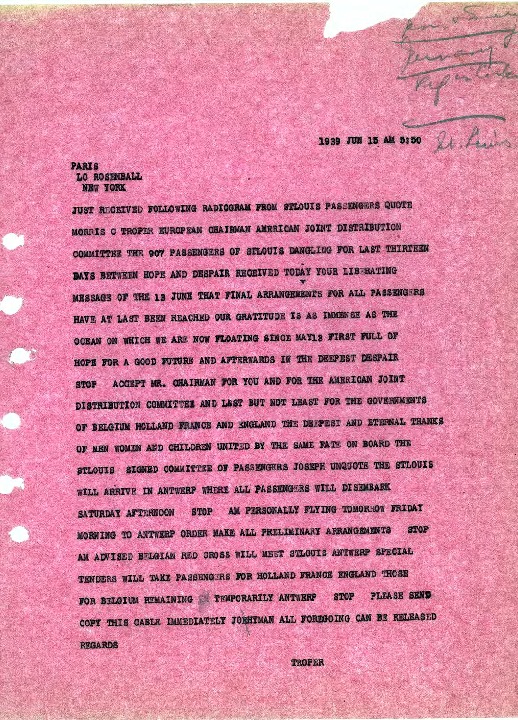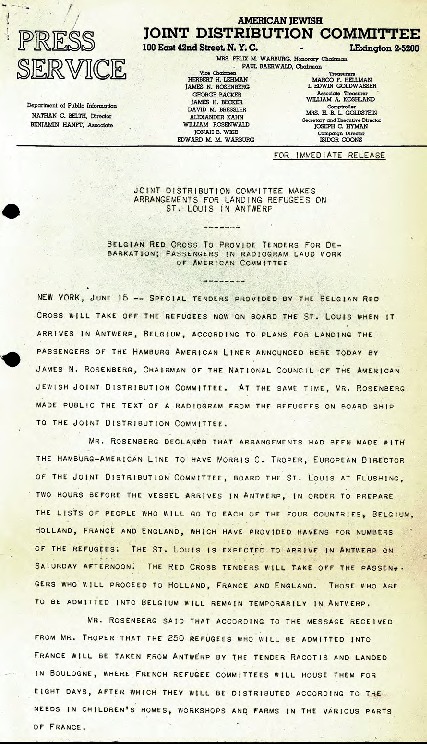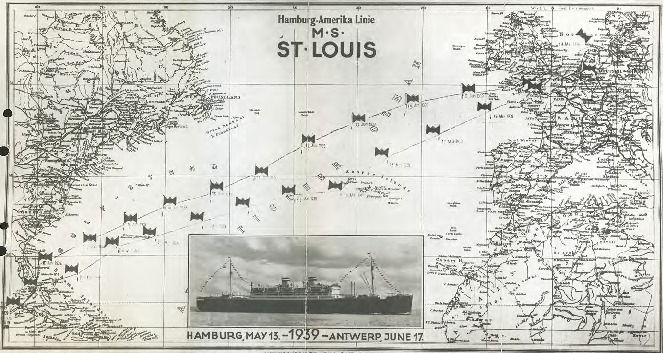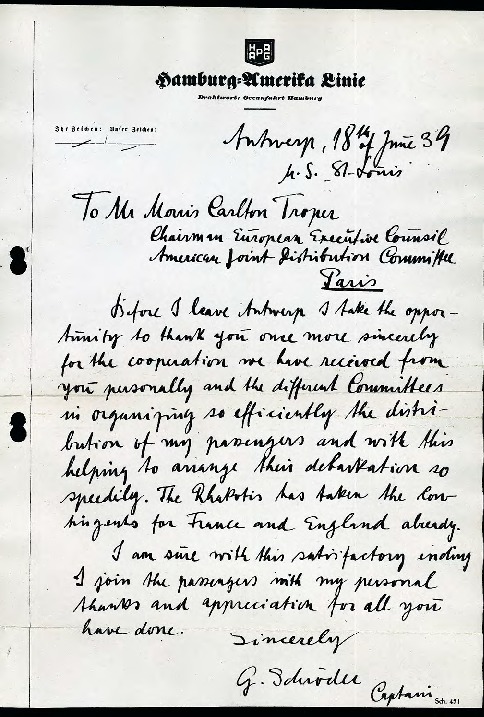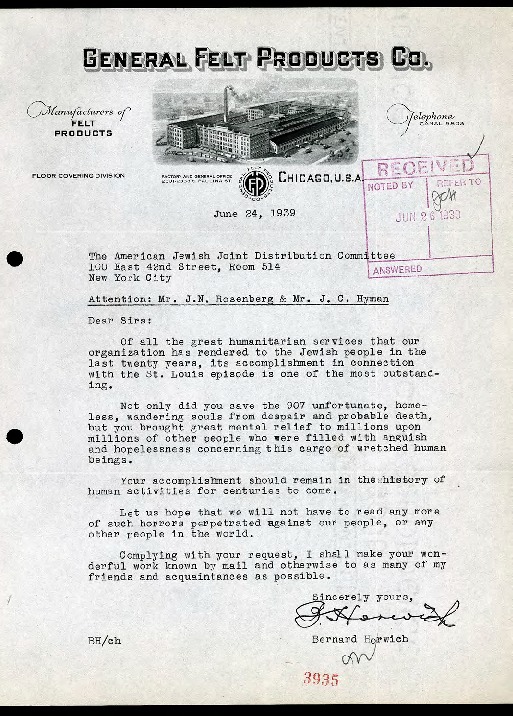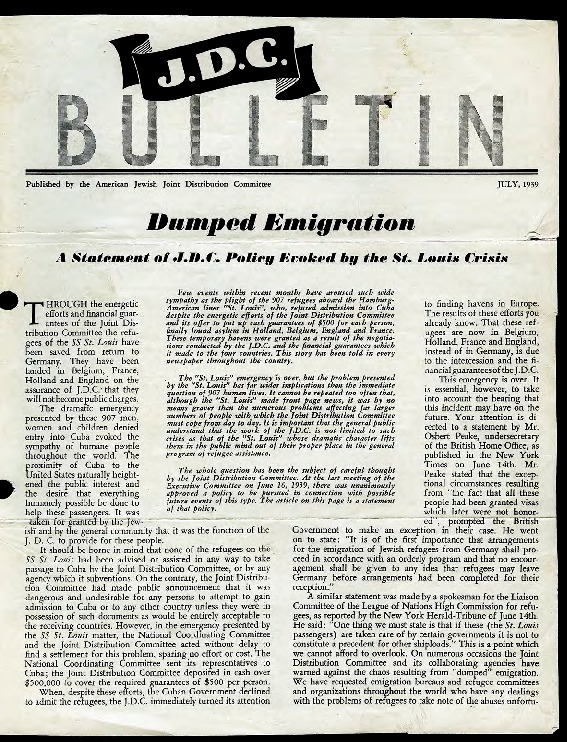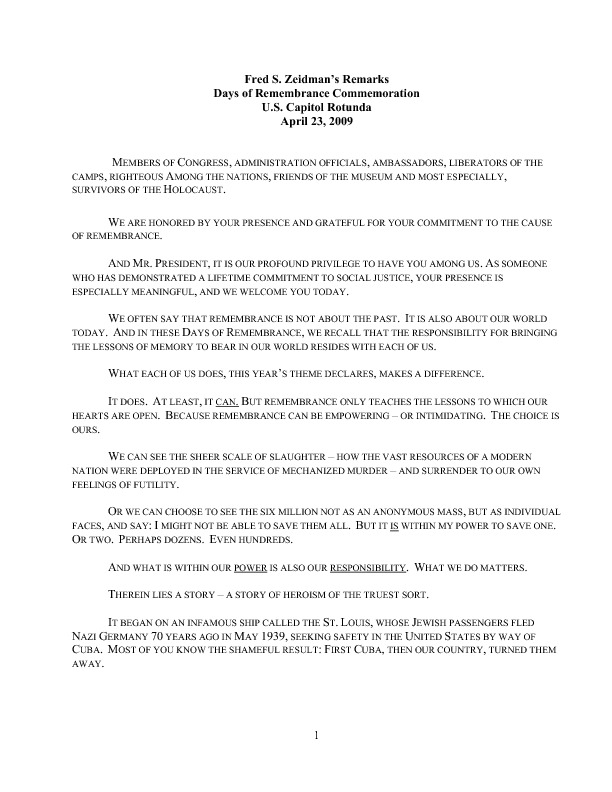 Photos to Illustrate this Topic:
For More Information on this Topic:
Voyage of the Damned (1976) is a fictionalized account of the Voyage of the St. Louis, but can be very effective in certain educational settings.
A recording of a March 19, 2019, program co-sponsored by the JDC Archives and the American Jewish Historical Society to commemorate the 80th anniversary of the voyage featuring Scott Miller, former director of curatorial affairs at the U.S. Holocaust Memorial Museum, is available on youtube.