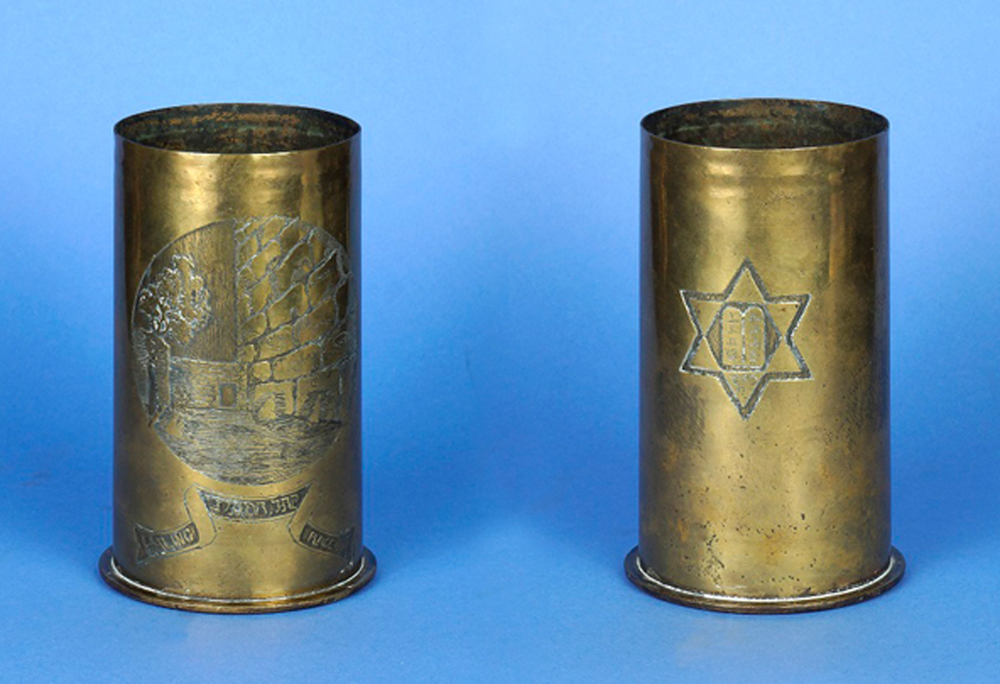 Trench Art in the JDC Archives
When the debris of battle becomes art; discover trench art in the JDC Archives
We love sharing news of recent acquisitions with our readers, but equally compelling are the hidden treasures found from within the JDC Archives. Such was the case with a previously unidentified cask. Upon further inspection, a mark was found on the bottom of the item, which read "RhMF." After conducting some research, we gleaned that the mark was an abbreviation for Rheinische Munitionsfabrik, an ammunitions factory in Dusseldorf, Germany. Instantly, the cylindrical brass holder was transformed into a World War I cartridge case.
During World War I, the vestiges of war were converted into trench art. Instead of canvas, oil paint, and marble, art was created with shell casings, cartridges, and spent bullets. As the first major industrialized conflict, World War I produced a surplus of raw materials and consequently intense psychological trauma. The construction of art using war debris also provided mental R&R for soldiers and helped to both fill and pass the time for prisoners of war and civilians alike. Acting as souvenirs of war, the pieces capture the experiences of those who witnessed the warfare firsthand. One of the most common types of trench art was made from shell cases. Meant to be collected and sent back for reloading, they often never made it and instead emerged as a popular memento which sparked a cottage industry.
The shell case in the JDC Archives has a Hebrew signature, which further identifies it as a product of Raphael Avraham Shalem (born 1888). Shalem studied at the Bezalel School of Arts and Crafts during the years 1913-1918. Bezalel was founded in 1906 in Jerusalem by the Latvian Jewish artist Boris Schatz (1866–1932) with the aim to develop a unique art style combining Biblical subject matter and Jewish motifs with symbolism, Art Nouveau, and Persian aesthetics. There was a practice among students to decorate German World War I shell casings with biblical imagery, traditional Jewish themes and symbols, as well as scenes of Palestine. Our shell case is no different, engraved with an image of the Western Wall on one side and the Ten Commandments inside a Jewish star on the other.
How apropos, that this piece of trench art was discovered during the centennial year of the end of the First World War. It serves as a reminder of JDC's early activities in Palestine during World War I. Throughout the war years, even after the United States entered the conflict in April 1917, JDC found ways to channel the funds raised by its constituent groups to Jews suffering from hunger and malnutrition, who had lost homes and livelihoods in the belligerent countries of Europe and in Palestine. In March 1915, some $1.5 million was sent to Palestine on the SS Vulcan, along with 900 tons of food and medicine; a second shipment reached Palestine the following year. Though JDC may not have been in the trenches alongside the troops, JDC support was felt far and wide. This lone canister illustrates that in the wake of violence and devastation, there is yet hope when the plea is heard.