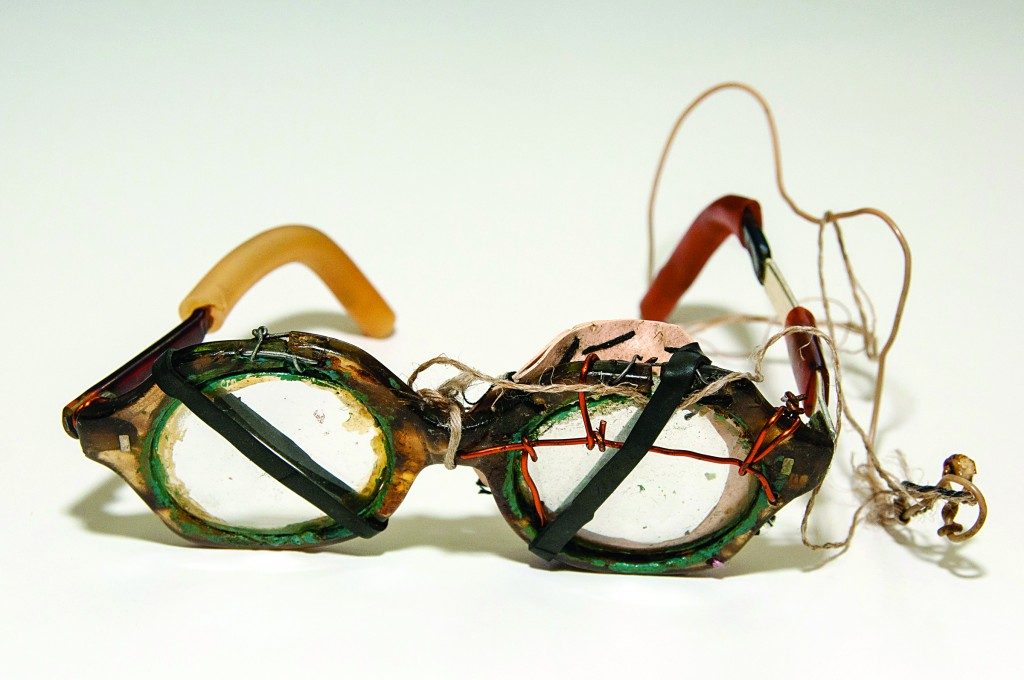 Timeworn eyeglasses of Russian Jew vividly attest to harsh economic realities.
JDC returned to the Soviet Union in 1989, after a 50-year absence after JDC's Agro-Joint program was terminated by the Soviet authorities in November 1938. The economic dislocations of the post-glasnost era left elderly living in a precarious situation, many of them living without sufficient resources for basic needs. JDC initiated a welfare program and established Hesed welfare centers, where the needs of impoverished, elderly Jews could be met, with food, medicine and home care provided, and winter relief distributed. Home visits became integral to the program, as many elderly clients lived in walk-up apartments and were not able to leave their homes to procure foods and medicines and see to their most basic needs.
Asher Ostrin, the regional director of our Soviet Union programs in 1990, visited a Jew in Samara, Russia, a city whose inhabitants faced travel and residency restrictions under the Soviet Union. His touching encounter with a JDC Hesed client made the needs to which JDC was responding incredibly vivid for him. Misha was wearing eyeglasses, a prized possession he had received after serving the Red Army faithfully during World War II. Held together by tape and rubber bands, they contained the original prescription as this gentleman did not have the equivalent of six cents to replace them throughout the years. The Hesed saw to it that Misha's glasses were replaced, and Ostrin used the timeworn pair at speaking engagements for many years, demonstrating the level of poverty that JDC encountered upon reentry to the Soviet Union.
While the realities of life in the Former Soviet Union (FSU) have evolved through the past 20+ years, JDC still provides free or subsidized medical care and other critical relief such as food and heating fuel, to more than 150,000 clients in the region. This is achieved in partnership with the Conference on Jewish Material Claims against Germany, which generously supports the welfare services for Holocaust survivors in the Soviet Union. Thankfully, however, the days of men like Misha living with the same eyeglasses for nearly half a century are long gone.