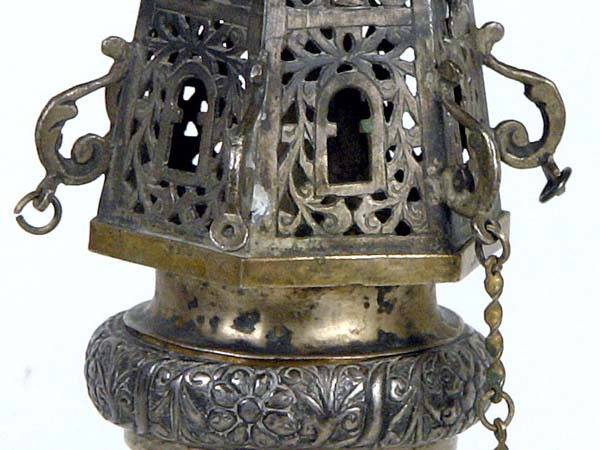 Ritual item from Tunisia tells tale of Jews in the region
JDC has thoroughly documented its humanitarian aid activities for over a century, in effect, not only saving lives but also saving meeting minutes and reports, press releases and passenger lists, all housed in the JDC Archives. In recording global assistance, the archives also offers a glimpse into the cultural makeup of Jewish communities around the world. Artifacts in particular offer snapshots of these communities rich with centuries old traditions, ever important to document in the rapidly shifting cultural landscape of the world today.
For instance, in the JDC Archives rests a single Torah finial from Tunisia. It is not simply a Jewish ritual item; rather, it also tells a tale of the cultural makeup of the Tunisian Jewish community. Traditionally used to decorate the top ends of rods on Torah scrolls, Torah finials act as crowns, topping the holy book. As the Torah is considered a divine element of the Jewish religion, it is decorated accordingly, physically elevated thanks to its dressing and ornaments. Finials are just one way that this holiness is reflected and the scripture is protected. However, the way in which Sifrei Torah are decorated depends on the community from which they originate.
This particular finial is shaped like a prismatic tower. The top section of the finial is composed of lace-like latticework, while the central register boasts ornate flowers, and each side is adorned with Jewish symbols such as the "Ner Tamid" (eternal light), hands making the Priestly blessing, a Torah pointer, the Ten Commandments, and an image of ritual hand washing. A single bell hangs from the side. Finials that are architectural in nature, such as this, originally appeared in Spain, Italy, and Germany in the 15th century, inspired by church ritual objects. The shape of the finial as well as the custom of decorating finials with sanctuary implements was adapted by Tunisian Jews after Italian Jews immigrated to Tunis, thus bringing their own ritual tradition to the community. Though Jews are said to have lived in Tunisia since Roman times, the influx of Jews from other continents is imprinted on the face of ritual items in the region.
JDC currently operates in Tunisia, particularly helping with educational needs. The organization first played a prominent role in the Jewish community of Tunisia in the 1950's, when the community peaked at 110,000 Jews, supporting an array of social welfare and Jewish educational programs. As JDC continues to care for the well-being of Jews still present in Tunisia, the JDC Archives will work to ensure the safe-keeping of this vestige of the Jews of Tunisia.
View more photos of JDC assistance in Tunisia in the 1950s.