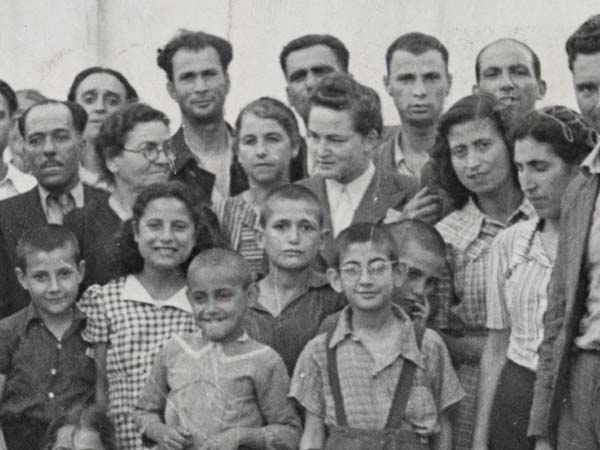 "He Remembered My Voice after 25 Years"
Oral history of JDC staffer recalls assisting Oskar Schindler and meeting one of the Schindlerjuden.
When you hear the phrase "Archives Treasure," what might immediately come to mind is a tangible, physical, artifact—a seder plate, a menorah, or perhaps a piece of art—that is entwined or associated with JDC's illustrious history. However, not all of JDC's treasures are visible to the naked eye—in fact, some can only be heard. The JDC Archive's Oral History Collection contains interviews conducted with 155 JDC staff members and lay leaders between 1966 and 2017. The interviewees provide first-hand accounts of JDC's humanitarian operations around the globe from the 1920s through the 1990s. One such interview was conducted by Herbert Katzki, a JDC executive and Associate Director-General who served the organization from 1936-1979, with former JDC staffer Amy Zahl Gottlieb.
From 1944-1952, Amy Zahl worked for the JDC in postwar Germany and eventually worked her way up to be the Director of Emigration in the American zone of occupation in Germany. During her tenure at JDC, Amy also worked in Italy, Greece, Austria, and Brazil. Along with the many Jews Amy assisted throughout those years, she also found herself face to face with none other than Oskar Schindler. As she recalls in her interview, Joe Schwartz, JDC's Overseas Director, asked her to arrange for Schindler's immigration. After the war, Schindler found himself without a way to secure a livelihood in Bavaria. In addition to arranging for his immigration, JDC also gave Schindler a $15,000 loan to start a nutria farm in Argentina. Amy also arranged for the immigration of Schindler's wife, girlfriend, and three other families.
A highlight of Amy's interview comes when she recalls meeting one of the Schindlerjuden (one of the children that Schindler saved during the war). In 1977 or 1978, Amy was on a local talk show in Urbana, Illinois with Michael (Miklos) Klein, a visiting professor of physics from Boston. Michael was telling how his whole family (he came from a family of Hungarian Hasidim), except one of his sisters, had been killed. When they broke for the news, he turned to Amy and said "I know you, I know your voice—you're Amy Zahl."
He recounted that Amy had taken him out of the sanatorium when he had TB and had given him a job in her file room in Munich. At the time, Amy told him that when he was well and she felt he was ready, she would send him to America. Michael proudly reported that he had gotten married and had two beautiful sons.
In the years that followed, Amy continued to stay in contact with Michael. What's extraordinary is, as Amy puts it, "He remembered my voice after 25 years."
Amy worked for the Joint until 1952, with her last assignment in Brazil. She passed away in 2009, at age 90.
Listen to this clip from her oral history interview where she tells about her meeting with Oskar Schindler.