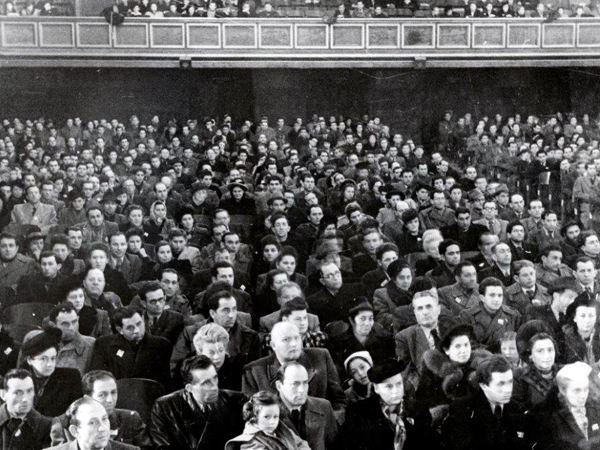 JDC Archives Virtual Programs: Fall 2022
Please join us at our upcoming virtual programs!
The JDC Archives is offering an array of online public programs in the coming months. These events are listed below; please register for each one individually by clicking on its RSVP link. Recordings of past programs are available via our Public Programs Recordings page.
WEBINAR:
Dr. Joseph Schwartz—"The Web Spinner"
Thursday, September 8, 2022
12:00pm–1:30pm (EDT)
This lecture is based on Professor Tuvia Friling's forthcoming book The Web Spinner, Dr. Joseph (Joe) Schwartz and the J.D.C. Aid and Rescue Operations during WWII and Its Aftermath: An Operational Biography.
Drawing on Schwartz's eleven years at JDC, primarily as European Director of the organization (1939-1950), the lecture will examine how Schwartz changed JDC's modus operandi during World War II, from a vast and vital philanthropic Jewish organization to an organization ready to be anywhere, anytime, with any means, to help and save Jews in harm's way. To achieve this, Schwartz worked with a web of proxies, Jewish and non-Jewish organizations, who knew and could better execute clandestine operations. He did so with his team, backed by a quasi "emergency cabinet" at the head office in New York.
The lecture will discuss Schwartz' role in organizing the immigration of tens of thousands of Jewish refugees in Spain and Portugal during WWII, handling the DP (displaced persons) camps, involvement in Bricha from Europe and emigration from the Middle East and North Africa, and setting up various programs for absorbing refugee immigrants in the young state of Israel.
Tuvia Friling is an Emeritus Professor at the Ben-Gurion University of the Negev.
Professor Friling previously headed the Ben-Gurion Institute (1993-2001) and was the State Archivist of Israel (2001-2004). In 2003-2004, Tuvia Friling served as Vice Chairman of the International Commission of the Holocaust in Romania headed by Prof. Elie Wiesel. Professor Friling was awarded by the President and government of Romania the President's award of "Cultural Merit, in rank of Commander." His publications include Arrow in the Dark: David Ben-Gurion, the Yishuv Leadership and Rescue Attempts during the Holocaust (Wisconsin University Press, 2005), and A story of a Capo in Auschwitz, History, Memory and Politics (The Schusterman Center for Israel Studies/Brandeis and New England University Press, 2014).
RSVP
The JDC Archives is excited to announce a new series, Young Lives in Turmoil and Transformation: JDC's Work with Children in the Twentieth Century.
The first program in this series will be a film screening cosponsored by the Boston Jewish Film Festival:
The Children of Chabannes
A film by Lisa Gossels and Dean Wetherell
Thursday, September 29, 2022
6:30pm-8:30pm (EDT)
The Emmy® Award-winning The Children of Chabannes is the story of how people in the tiny French village of Chabannes chose action over indifference, and risked their lives and livelihoods, to save more than 400 Jewish refugee children during World War II. Two of the rescued children were filmmaker Lisa Gossels' father Peter and uncle Werner. Integral to the Chabannes story are the extraordinary measures taken by the local teachers and townspeople who—in concert with l'Oeuvre de Secours aux Enfants (OSE), a Jewish child welfare agency—sheltered, nurtured, and educated the children and integrated them into the local school and community . . . until it was no longer safe for them to be there.
The Children of Chabannes is not only a story about the past, it's an exploration of moral courage and goodness in the face of evil: of what motivates individuals to take a stand against injustice, bigotry and extremism.
The film is 91 minutes long. Watch the film trailer.
The screening will be followed by a Q&A with Lisa Gossels and Werner Gossels.
Lisa Gossels is an Emmy® Award-winning social issue documentarian whose films The Children of Chabannes and My So-Called Enemy screened at 100 film festivals, garnered 20 awards, and aired on HBO and PBS. Lisa became a documentarian because she believes in the power of film to affect social change. After 25+ years in living New York City, where she was also a sought-after guest educator, consultant for documentarians, writer and grant writer, Lisa joined Boston Jewish Film Festival as their Artistic Director in February 2022.
Werner Gossels, Child of Chabannes. Werner Gossels was born in Berlin in 1933. Werner and his older brother, Claus Peter Rolf Gossels, found safe haven in France, including at the Chateau of Chabannes, due to the tireless efforts of their mother, Charlotte, who was later murdered in Auschwitz. Werner and Peter were fortunate to emigrate to the U.S. in September 1941, thanks to OSE, JDC, HIAS, and the Quakers. After completing undergraduate and graduate studies at Yale University, Werner worked in manufacturing for General Electric, Transitron, and Wang Laboratories before starting his own commercial real estate business.
RSVP
The second program in this series will be a webinar:
A Children's Paradise? The JDC and Selvino, Italy, 1945-48
Wednesday, October 26, 2022
12:00pm–1:30pm (EDT)
In a May 1947 memo, JDC worker Theodore Sanejberg described Italian children's home, Selvino, as a "children's paradise." Less than a month later, however, he wrote that his original assessment had been "idealistic" and described the children's behavior as "very unpleasant." Located in the foothills of the Alps between Milan and Switzerland, Selvino became the rehabilitation center for hundreds of Jewish children, primarily foreign orphans, in Northern Italy from 1945 to 1948. Heralded as a rousing success in the years that followed its closure, Selvino nevertheless struggled during its existence to please all the parties involved in its operation. This lecture examines the role of JDC as a major funder backing the children's center and its work in conjunction with the United Nations Relief and Rehabilitation Administration (UNRRA), the Jewish Agency, and the Youth Aliyah to provide for and eventually resettle the children. By considering Selvino's history within the broader context of JDC's program in Italy and other Italian displaced children's centers, this lecture contends that the operating procedures of these non-governmental agencies become clearer through comparison, as does the remarkable legacy of this small home.
Danielle Willard-Kyle completed her PhD in Modern European History at Rutgers University, where she held the Steven Spielberg Endowment for Jewish Studies and the Memory of the Shoah Special Doctoral Fellowship. She has an MSt in Jewish Studies from the University of Oxford, an MA in History and Jewish Studies from the University of Toronto, and a BA in History and English Literature from Westmont College. Her research focuses on the experiences of European and North African Jewish refugees in Displaced Persons Camps in post-Holocaust Italy and on the ways this research can connect to current events in immigration. She is currently a Research Affiliate in the Department of History at the University of Glasgow. She was the recipient of the 2018 Ruth and David Musher/JDC Archives Regional Fellowship.
RSVP