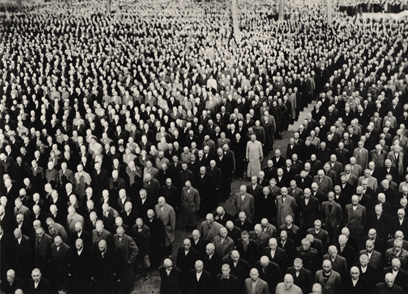 Kristallnacht, the Night of Broken Glass, and JDC's Response
Eyewitness of the events sent detailed report to JDC headquarters about the horrific event.
On the evening of November 9, 1938, a series of coordinated attacks were carried out against Jews in Nazi Germany, Austria and areas of German-occupied Czechoslovakia. The violent pogroms were waged by the paramilitary wing of the Nazi party and non-Jewish civilians, and with the complicity of the German authorities who failed to stop the violence. The name Kristallnacht, literally "Night of Crystal," comes from the shards of broken glass that were remnants of the synagogues, buildings and stores of the victimized Jews.
JDC had been assisting Jews in Germany throughout the 1930s, as they became disenfranchised and were barred from participation in German politics, culture, education, professional life, and social outlets. As the largest foreign organization in Germany whose goal was to help Jews, JDC monitored the country's treatment of its Jews closely. An eye witness of the events in Berlin and Frankfurt sent a detailed report to JDC headquarters about the horrific event, which destroyed 267 synagogues, shattered the shop windows of an estimated 7,500 Jewish-owned commercial establishments, desecrated cemeteries and claimed the lives of at least 91 Jews.
The name of this eyewitness is unknown, as it was kept secret at the time for security purposes. However the report, combined with other accounts, was helpful in mobilizing JDC's response to the catastrophe. JDC and the United Palestine Appeal joined forces to raise money for overseas operations. They created the United Jewish Appeal through which they collected tens of millions of dollars to help Jews in Nazi Europe.
Sources used: United States Holocaust Memorial Museum website, JDC Archives materials, I Seek My Brethren: Ralph Goldman and 'the Joint": Rescue, Relief and Reconstruction by Tom Shachtman.