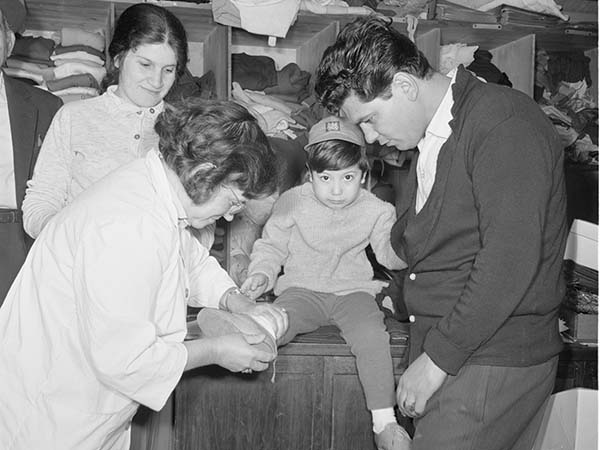 Marking the 60th Anniversary of the Mass Jewish Emigration from Algeria
Rich resources of the JDC Archives tell the story of Algerian Jews
July 2022 marks sixty years since the end of French colonial rule in Algeria. The JDC Archives holdings include much evidence of the organization's humanitarian, and later educational, work in North Africa. The organization first became active in the region during World War II; JDC's activities in Algeria spanned both before and after the Algerian War of Independence and end of French colonial rule. Prior to independence, JDC was involved in Algeria through subsidies to local programs including Jewish education, youth movements, social services, and a medical clinic. The Algerian War started in 1954 and went through various stages until independence was achieved in 1962. As early as 1960, a large-scale movement out of the country was expected and prompted the Jewish Agency to plan for their absorption in Israel. Economic prosperity led some individuals to postpone emigration until it was clear that there would be no future for the Jews, most of whom possessed French citizenship. With independence, over a million European-identified individuals fled. When well over 100,000 Jews left, mostly to France and Israel, JDC was there.
JDC played an important role in Algerian Jewish affairs after Algerian independence in July 1962. The Jewish communities, previously mostly self-supporting, lost most of their income sources and were unable to sufficiently help the needy; JDC filled much of the gap. Our Text Collection  contains many documents from the era, from both Algeria and France. A database search by country and date reveals the tireless work of JDC staff in working on the ground in Algeria during the ongoing violence and unrest. JDC specifically assisted the elderly, those who had trouble organizing themselves, and those with jobs or interests who had stayed behind.
In our Finding Aids, you will find background material, both from administrators in New York and workers in the field in both Algeria and France (in the Geneva Collection). Israel, too, absorbed immigrants from Algeria in the years leading up to independence. Through letters, newspaper clippings, and emigrant lists (searchable in the JDC Archives online database), the era of the ongoing war and its developments unfold.
JDC kept up with those on the move, bringing refugees to safety and providing for them upon reaching their destination. As French citizens, Algerian Jews were not stateless, and did not have to learn a new language. Nevertheless, upon arrival in a new country, JDC provided them with housing grants, interest-free loans, and clothing.
Our Photo Collection contains a dedicated gallery that documents Jewish life before the French withdrawal and follows Algerian Jews on their way out of the country as well as those left behind. Depicting children, vocational studies, and summer camps, the gallery brings to life JDC-subsidized activity in this once self-sufficient community. In addition, searching by decade and country in our database yields hundreds of photos of Algerian Jews while still in Algeria and after their journey to France.
Our Historic Film, Video, and Audio collection also has content related to the Jews of Algeria. Peruse our list of digitized films, videos, and audio recordings to view more treasures. In a clip from The Long Hard Days—France (1962), we see glimpses of the soup kitchens and welfare workers provided to the North African Jewish immigrants on arrival in France.
On the sixtieth anniversary of Jewish emigration from Algeria, JDC's original archival material is a rich resource through which to delve into how this historic event impacted on individuals. We invite genealogists, academics, and educators to recognize this milestone by using our text, photo, and film collections.