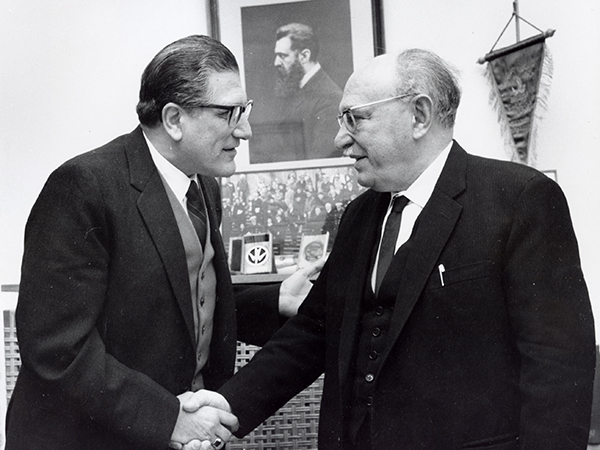 The Difference a Day Makes
Emergency Fundraising, Then and Now
JDC Archives staff occasionally come across historical documents that have timely resonance. One such document is a report on a series of pre-1967 war fundraising meetings held in the United States, Canada, and Europe.
The report is the work of Charles Jordan, who began his career with JDC in Havana in 1941. After working with displaced Jews in Cuba, he went on to work with refugees in Shanghai, headed JDC's emigration department in Paris, and eventually joined the organization's leadership. In 1965 he became executive vice president in charge of overseas operations. Jordan was universally beloved, a consummate fundraiser and charismatic speaker, a valued colleague, and the object of profound gratitude to the thousands he helped. Tragically, in August 1967, at age 59, he died in Prague under mysterious circumstances in what many believe was a murder.
During late May to early June 1967, Jordan flew back and forth between New York and Tel Aviv to plan for human needs arising from the potential war, and to gather information for the report he would make at an important meeting back in New York with those tasked with raising funds to address them.
According to the document, Jordan noted that in New York there was a "demonstration of the widest possible unity of the American Jewish community we have not had for a very long time." He went on to describe the proposed campaign goal to be one billion dollars for Israel. He describes "fantastic amounts of money" ($250,000; $500,000; $1,000,000) pledged, and goes on:
"We were just speechless. While they can afford it, to afford and to give are two different things, and in many cases it means withdrawing it from the bank, selling stocks and bonds, to make good their commitments."
Jordan continues, "[In Montreal,] They are selling things and pawning things for the feeling of the urgency of the crisis." He interjects his own interpretation of these communities' frenzied need to support this cause:
"They know the Jewish community throughout the world without Israel is nothing, that our status is based on the existence of Israel and we cannot afford to let Israel go down the drain."
He goes on to describe similar scenarios in England, France, and Germany, as well as street demonstrations in New York, Rome, and Paris, saying "money alone is not going to do it."
Prior to October 7th, our reaction to reading Jordan's account of unprecedented generosity and action by Jews around the world on Israel's behalf was amazement that such solidarity existed at the time. Then came the devastating events of October 7th followed by an outpouring of overwhelming support for Israel's needs, once again through giving and advocating.
The repeat visits of JDC's current New York-based CEO Ariel Zwang to Jerusalem echo Charles Jordan's flying back and forth to Israel. The emotions of solidarity expressed by JDC board members and supporters to staff in Israel show that we're still in this together.