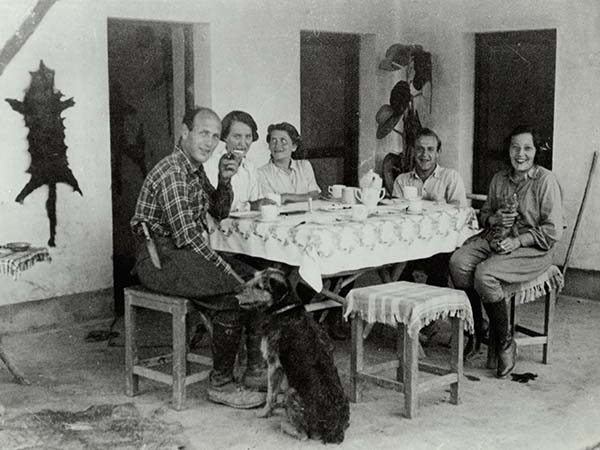 Individuals identified in JDC photos reveal personal stories
Imagine the excitement of scanning photographs from a distant place and time and seeing your own face or that of a loved one. When Arturo Buchmann, now in New Jersey, saw photograph after photograph documenting his family's life in La Paz, Bolivia, during World War II, he (in his own words) "went bananas." No photographs of his childhood had been saved by his family and so seeing the images revived memories.
When family researchers identify themselves, family members, and friends in the JDC Photo Collection, they enrich the information held by the JDC Archives. With the "Recognize Someone" feature on the JDC Archives website, many visitors have identified the names of heretofore anonymous beneficiaries of JDC aid. The JDC Archives would like to share with eNews readers four stories behind wartime and postwar photographs, shared with us by website users.
The first story is Buchmann's. Bolivia offered refuge to those seeking to escape Nazi Europe and received thousands of Jewish immigrants. Buchmann remembers everything from this formative period in his life: being met at the train station and being hosted by a Jewish family on arrival. Most Jews going to Bolivia settled in La Paz, the capital, and JDC supported communal institutions there and in other locations. Buchmann's parents both received loans to start businesses thanks to JDC funding, and Arturo, his brother and twin sister were placed in the Miraflores Children's Home.
After a friend saw the photo of little Arturo Buchmann as a candle in a "living Menora," Buchmann sent copies of it to childhood friends all over the world, who were delighted to receive it. When he discovered the JDC Archives Photo Collection, he identified himself and many others (including his sister, schoolmate, and his lifelong best friend, in addition to teachers and many other adults) in 12 photos taken in various locations in Bolivia: at the La Paz Miraflores Children's Home, the Buena Tierra agricultural colony, and the Recoleta home for elderly refugees. He wrote, "Being the last survivor of the group, I feel compelled to identify as many in the photos as possible. It's important to give names to the faces. If it hadn't been for JDC, we wouldn't be alive."
Another individual who helped identify people in photos is Elisa Loti Stein, born Elisalotte Kraft. Her family had journeyed from Cernauti, Romania (now Chernivtsi, Ukraine), to Athens, Lisbon, and Ellis Island, finally securing the proper visa enabling them to join family in Ecuador. In February 1941, the most liberal immigration law in the Americas had gone into effect in Ecuador, and it became one of the last countries in the Americas to keep open the possibility of immigration. JDC supported local refugee organizations, helped open the first credit cooperative in South America, and allocated funds for loans to refugees. JDC also funded religious and cultural activities, including providing Torahs to new congregations in Cuenca, Guayaquil, and Quito. This little researched community was prosperous enough to raise funds for European relief in 1942-1945, as evidenced in JDC Archives records from the time.
Elisa Loti Stein lived in Guayaquil, Ecuador, but recounts that as a teenager, she and her friend Ruth Goldsmith spent time in Quito during the rainy season in Guayaquil. They often went to the Maccabi Sports Club as well as movies and the club for foreigners, where her mother (president of the local WIZO chapter) raised money for refugees and orphaned children in Europe. Elisa, who went on to become an Obie Award- winning actress married to Joseph Stein (librettist of Fiddler on the Roof), remembers performing in many of the fundraising concerts.
When Stein viewed the JDC Archives' Ecuador gallery, she joyfully identified her friends from Maccabi in two photos, and shared her identifications with JDC staff.
The Dominican Republic is the scene of the third story. After the Caribbean nation offered to take in refugees following the Evian Conference in 1938, JDC founded, funded, and facilitated the Dominican Republic Settlement Association (DORSA). For 750 Jewish refugees, including Regina and Kurt Koenig, this agricultural settlement in Sosúa on the northern coast was a refuge. The first settlers arrived in May 1940, and each family received 33 hectares (82 acres) of land. In 1943, the number of known Jews in the Dominican Republic peaked at 1000. The photo of the Koenigs, below, was spotted by three family members in the DORSA gallery, who explained what their ancestors were doing: manufacturing inexpensive sleeping mats.
The final story comes not from the Americas but from Europe. By the time the Foehrenwald displaced persons camp ceased to function in February 1957, JDC staff were delighted at the closing of the longest functioning DP Camp in Germany. And yet to at least some DPs who spent their postwar years there, it is remembered as a place of community, resilience, and post-traumatic growth. Residents once again took charge of their lives: all Jewish DP camps had their own fire brigades, police, and courts to settle minor cases.
Phyllis Lee, recipient of the 2021 JDC Archives Documentary Film Grant, whose parents met at Foehrenwald, recognized her father in a photo of the camp fire brigade. Her forthcoming documentary, After the Final No, is an exploration of this extraordinary human capacity for renewal after enormous trauma and loss.
Once produced by JDC staff and photographers to educate the public about needs overseas and the work of JDC, today the 150,000 photographs in the JDC Archives Photo Collection help families fill in the gaps in the personal histories of their loved ones.
Have you recognized someone in the JDC Archives Photo Collection? Clicking on an image in a gallery will bring up the photo with a red Recognize Someone tag in the bottom right corner. Click on this tag and fill out the form.
These stories have been shared with the individuals' permission.