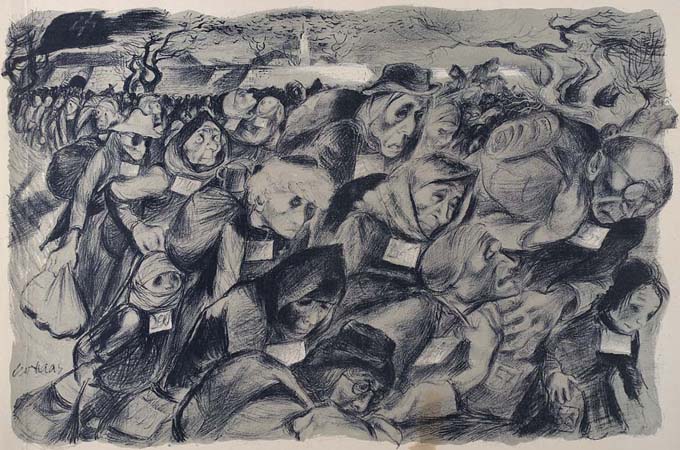 Through the Eyes of an Artist
The lithographs of Leo Haas
"The world must see through the eyes of the artists the horrors of Nazi brutality. Stories and numbers are too often forgotten or are so shocking that they completely defy imagination. But through documentary pictures, Nazism can be, and should be kept alive in the minds of all peoples of the world."
Czech artist Leo Haas (1901–1983) risked his life to record the atrocities he saw during the Holocaust. Though documentary in nature, his art is deeply personal, illustrating the fragmented reality and varied intensity of feeling that pervaded his life during Nazi occupation. The JDC Archives Artifacts and Ephemera Collection holds a series of lithographs by the artist, which were purchased at Israel G. Jacobson's request (Director for AJDC, Czechoslovakia). Haas sold the 12 original prints to JDC in June 1946 in Prague. The lithographs document Haas' experiences during the war as seen through the perspective of a prisoner, with image titles ranging from "Daily Count in Saxenhausen" and "Starvation in Theresien" to "Asylum Auschwitz" and "The Death March".
Born in 1901 in Opava, Czechoslovakia, Haas studied painting in France, South Germany, and with Emil Orlik in Berlin, graduating from the Academies of Fine Art in both Karlsruhe and Berlin. As an artist, he worked professionally as a painter and graphic designer in Vienna and Opava. Accused of being a communist, he was arrested by the Nazis in 1939 and deported to the Nisko labor camp in Poland. Later, he was imprisoned in Theresienstadt with his family and assigned to the technical department where he worked on propaganda for the Nazis. Throughout his imprisonment, he secretly painted scenes of ghetto life. Caught after smuggling art out of the camp, he endured torture in the "Small Fortress," a Gestapo prison within Theresienstadt. This is actually a memory depicted in one of his prints. In fact, testimony given to JDC, recounts that some of the pictures that JDC bought were originals that he had created while imprisoned in the "Small Fortress" and hidden in the walls. After liberation, he returned and was able to recover the works of art.
From Theresienstadt, he was deported to Auschwitz and Sachsenhausen, where he worked in the counterfeit department of the Gestapo, manufacturing foreign currency, as part of Operation Bernhard, whose aim was to destabilize the British economy. He continued to paint during his internment, using materials from his department. Eventually, he was liberated by US troops at Ebensee.
The expressive images he created during his internment are haunting and graphic with ghost like figures. The works depict his firsthand account of the progression of Nazi tactics and the transformation of citizens into inmates of inhumanity.
Leo Haas characterizes the print above as follows: "In the summer and in the winter our parents, children, the old and young alike were taken to the gas chambers of Auschwitz." The mass of figures hurtling forward in chaos and confusion capture the uncertainty and fear of their unknown fate. Individuality can still be sensed among the figures owing to a variety of head coverings and descriptive facial features, yet some visages appear skeletal with hollow eyes, almost as if the artist is attempting to foreshadow the dark future for which they are destined.
Leo Haas had a symbiotic relationship with his art.
"In spite of the fact that my suffering was great, and I was ill most of the time, I did not stop in my work. I made sketches, and little paintings, and therefore my pictures are so documentary…These are all realistic paintings. But often, what I saw was much too dreadful to put on paper. My medium was too limited, and my paper too weak to bear all that I saw and felt"
It seems that being able to generate art during his imprisonment was therapeutic for Haas, however, it also served a greater purpose. Committing his visions and memories to paper allowed him to bear witness to the suffering he and his fellow prisoners endured. Given that he risked his life to both draw and save works on paper, is a testament to the power of art to create meaning out of misery and transcend darkness.
JDC is no stranger to understanding the power of art. In fact, the organization has a history of investing in art, from funding the Rutenberg Seminar on Cyprus which provided art classes to Jewish refugees, to hiring artist István Zador to document humanitarian assistance in postwar Hungary. These lithographs are just another example of JDC supporting art and artists.
These prints have recently been rehoused thanks to a 2021 Preservation Assistance Grant from the National Endowment for the Humanities (NEH). The grant has funded a preservation assessment of the albums and scrapbooks within the Artifacts and Ephemera Collection, by an expert consultant and the purchase of preservation supplies. Any views, findings, conclusions, or recommendations expressed in this article do not necessarily represent those of the National Endowment for the Humanities.