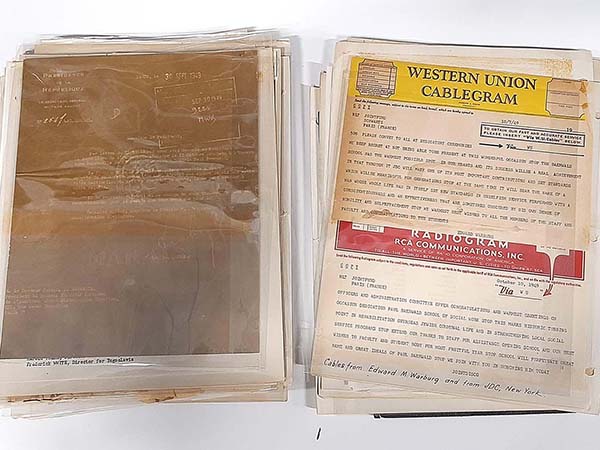 Scrapbooks and Albums Rehoused
NEH Preservation Assistance Grant Outcomes
The JDC Archives was honored to receive a 2021 Preservation Assistance Grant from the National Endowment for the Humanities(NEH), which has now been completed. The grant funded a preservation assessment of the albums and scrapbooks within the Artifacts and Ephemera Collection by an expert consultant and the purchase of preservation supplies.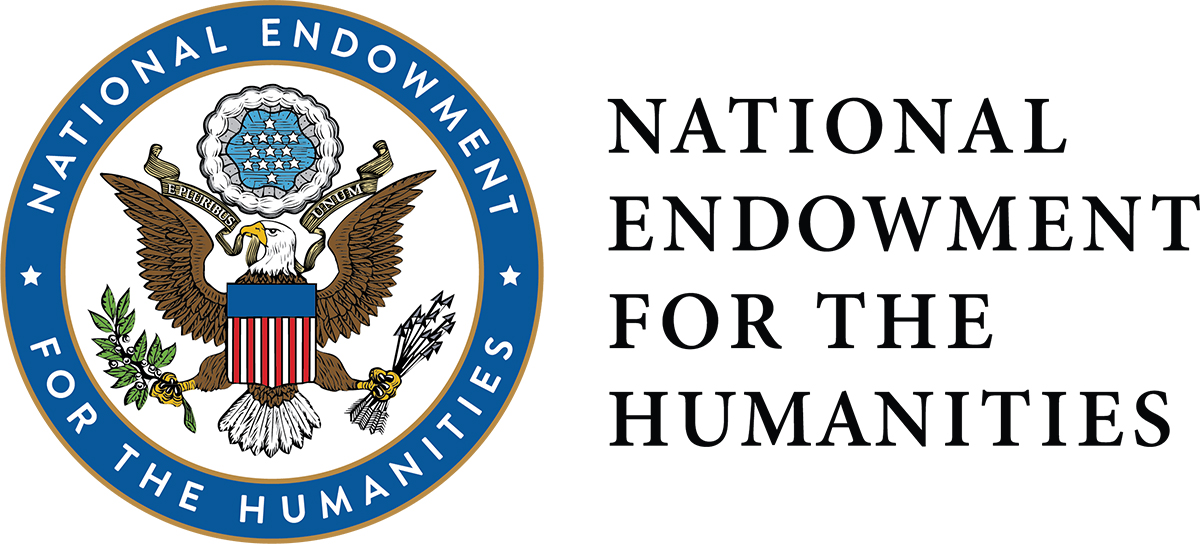 The National Endowment for the Humanities is an independent federal agency created in 1965. It is one of the largest funders of humanities programs in the United States. The Endowment awards grants to top-rated proposals examined by panels of independent, external reviewers.
Thanks to the grant, 64 albums and scrapbooks were rehoused in the Artifacts and Ephemera Collection of the JDC Archives headquarters in New York. The works contain correspondence and telegrams, cards and delicate newspaper clippings, lithographs and prints, and ephemera and photographs from lost Jewish communities over the past century. These photo albums, scrapbooks of mixed media, albums of works of art, and illustrated reports are fragile and required preservation guidance and action to ensure their longevity. Notable examples which benefited from this funding include:
Illustrated letter of gratitude from Hungarian war prisoners to the American Jewish Joint Distribution Committee (see below), for helping to free thousands of Hungarian prisoners of war in East Siberia, ca. 1920's;
An album compiled by Issachar Ryback that contains his own drawings of farmers at work in the agricultural settlements established by JDC in the Ukraine and Crimea in the 1920's;
JDC 20-year commemorative volume with financial and statistical data concerning JDC activities along with illustrated maps and graphs, including a supplement entitled "Lease on life: Remaking of lives," primarily consisting of a photo collage, 1935;
Pages of a scrapbook from the Majdanek concentration camp and the Lodz Ghetto in Poland containing ghetto advertisements and photographs, ca. 1932 – early 1940's;
Folio of 12 lithographs by Leo Haas documenting his experiences in labor and concentration camps during World War II, ca. 1946;
Album with contact sheets of photos taken by JDC photographer Frédéric Brenner in Yemen, ca. 1986.
The grant, managed by Abra Cohen, Archivist at JDC, funded the procurement of a conservation consultant with a specialization in paper-based items. After reviewing albums and scrapbooks, the conservator submitted reports on the condition of the materials with recommendations for the purchase of preservation supplies and, consequently, appropriate rehousing measures. Recommendations were reviewed by Archives staff and the purchasing of supplies and rehousing commenced! Rehousing often entailed interleaving pages of the albums and scrapbooks with protective papers such as glassine, buffered, or unbuffered paper. These are used to neutralize acids and protect the contents of pages. Additionally, new acid-free enclosures were purchased to house the bound works and mylar sleeves were used to fully encase delicate pages of disassembled scrapbooks as well as photographs and captions which can come loose from any pages.
The Dominican Republic Settlement Association (DORSA) logbooks required significant preservation measures. The two DORSA logbooks (above) filled with photos and diary entries vividly describing the development of the agricultural settlement JDC established for Jewish refugees in Sosúa, Dominican Republic during World War II. The following preservation work was completed:
Pages with affixed photos and text documents were interleaved with buffered paper. Buffered paper has a buffering agent that protects against migrating acids. To provide added stability and protect the photographs still affixed to the album pages, the buffered paper was cut according to page size in order to fill the pages to their edges.
Many photographs and text documents had lost their adhesive backing and were loose within the logbooks. These photographs and text documents were encased in their own individual mylar sleeves for protection.
One of the two logbooks required a new acid-free storage box of appropriate dimensions due to its increase in volume from the interleaving and use of additional mylar.
Thanks to the grant, a major portion of this subcollection of the Artifacts and Ephemera Collection has been safely rehoused, which has enhanced our ability to maintain effective stewardship of this collection and render it accessible to researchers and curators around the world. Furthermore, the skills learned from this grant will allow us to continue to safely house the materials in the Artifacts and Ephemera Collection.
Any views, findings, conclusions, or recommendations expressed in this article do not necessarily represent those of the National Endowment for the Humanities.