In response to the onset of World War I and the devastation it wreaked on thousands of Jewish communities in war-torn regions, the newly-formed American Jewish Joint Distribution Committee initiated massive relief projects in Palestine to sustain fragile communities and across Eastern Europe to support communities devastated by the war.
In Depth
War and Emergency Relief — Establishment of JDC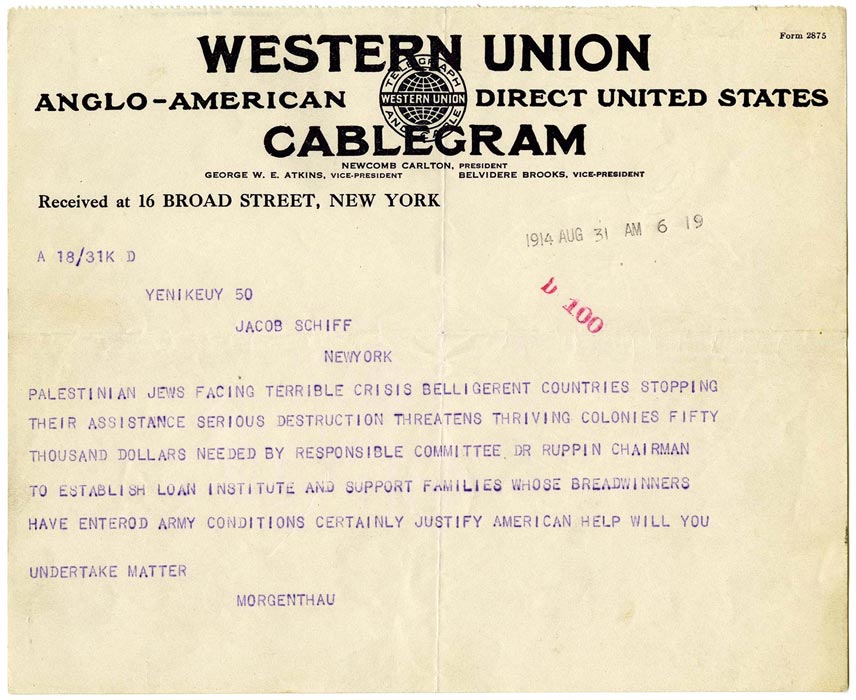 Cable from Henry Morgenthau, U.S. Ambassador to Turkey, to philanthropist Jacob Schiff, calling attention to the plight of the Jews of Palestine and asking for $50,000 in aid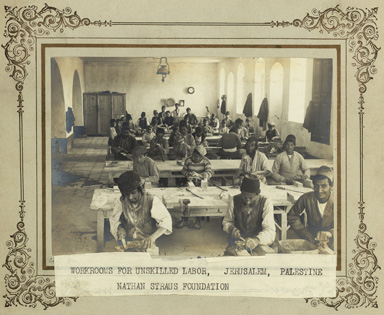 Laborers learning new skills in the workrooms of the Nathan Straus Foundation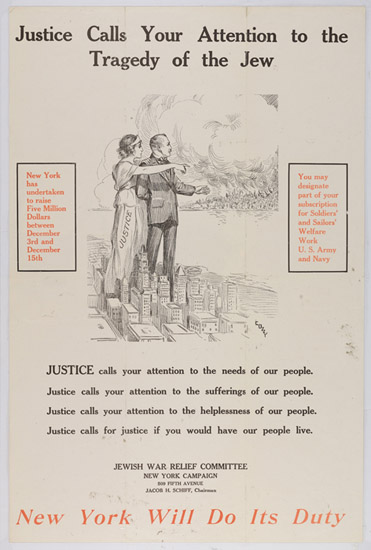 Fundraising poster by the Jewish War Relief Committee for its New York campaign
In a nationwide campaign initiated during World War I, U.S. Jewish leaders publicized the breadth of suffering abroad and the necessity of the wartime relief effort.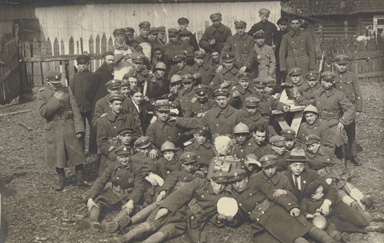 Jewish soldiers in the Polish Army pose with Passover matzah
Although JDC was established with the principal mission of providing essential humanitarian assistance to Jews affected by the destruction and displacement of World War I, from the outset it also endeavored to support Jewish communal life and activity. These Polish Jewish solders have received matzah distributed by JDC so that they could observe the Passover holiday.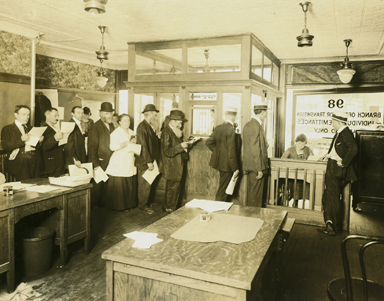 People waiting to send remittances overseas at the office of the JDC Transmission Bureau
Launched by Harriet Lowenstein, JDC's first comptroller, the Transmission Bureau was a vehicle through which families in America could transfer funds to relatives trapped in the war zones abroad.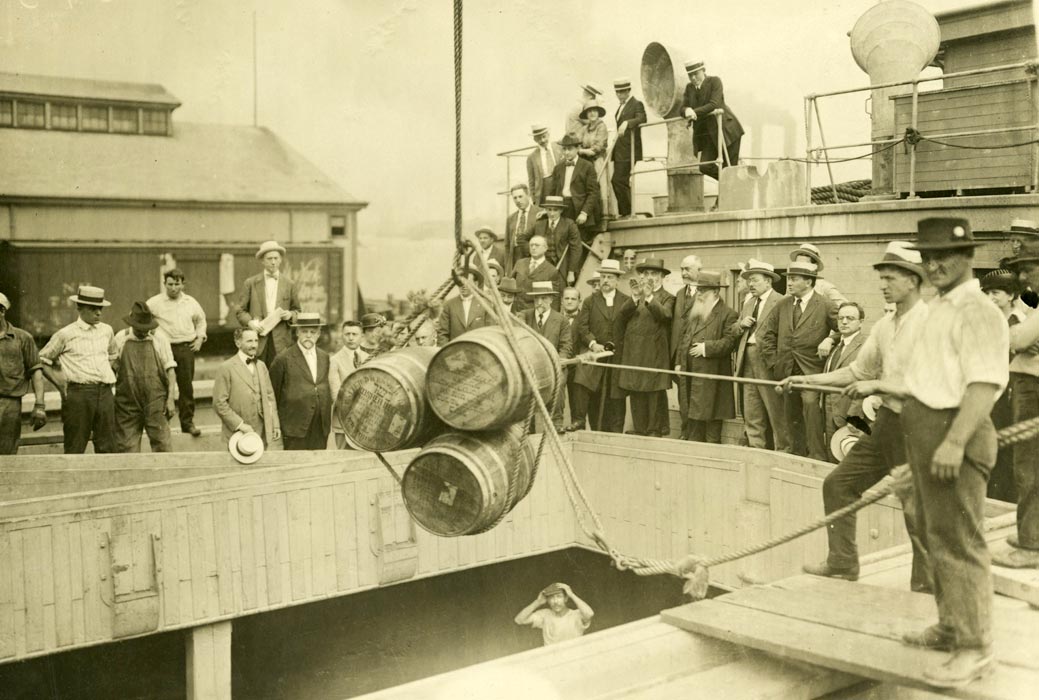 The first shipment of kosher pickled meat for the starving Jews of Poland, loaded aboard the SS Ashburn in the presence of JDC leaders and supervising rabbis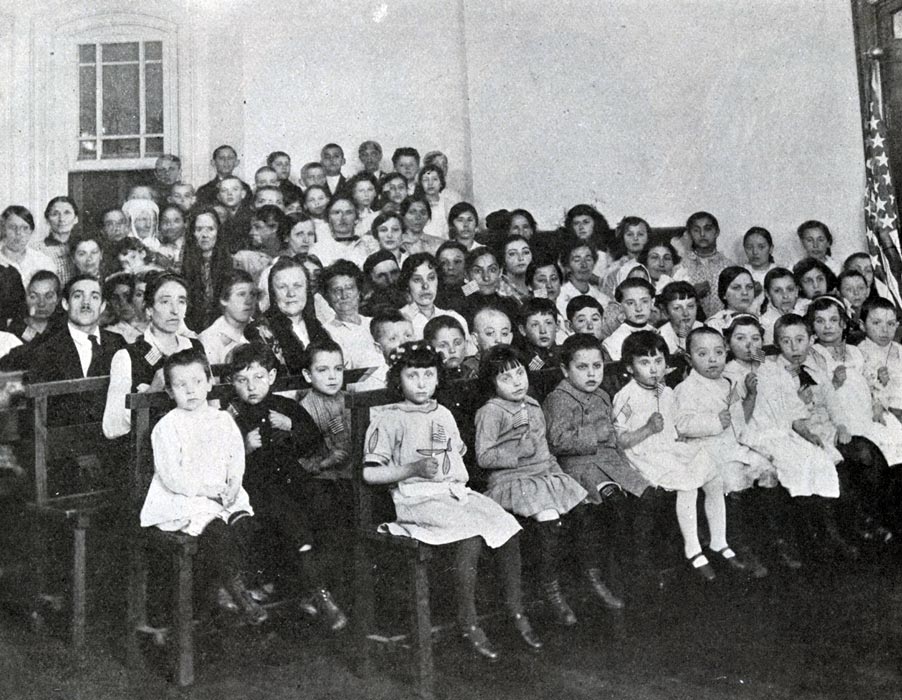 Jewish World War I refugees in Yokohama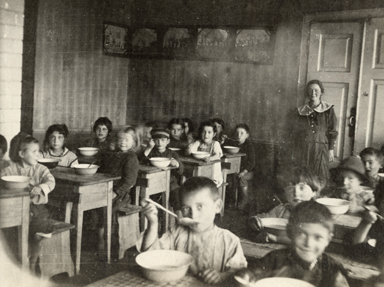 Children eating at Mendele's Kindergarten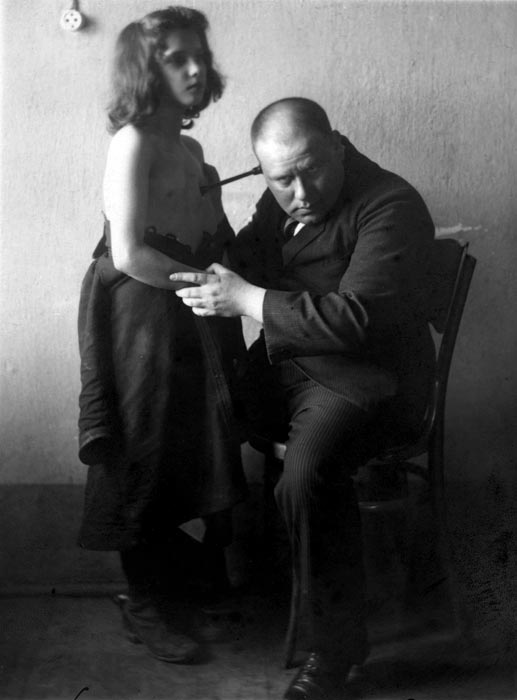 Doctor examining an orphan in Sighet, Romania, as part of JDC's extensive medical and welfare program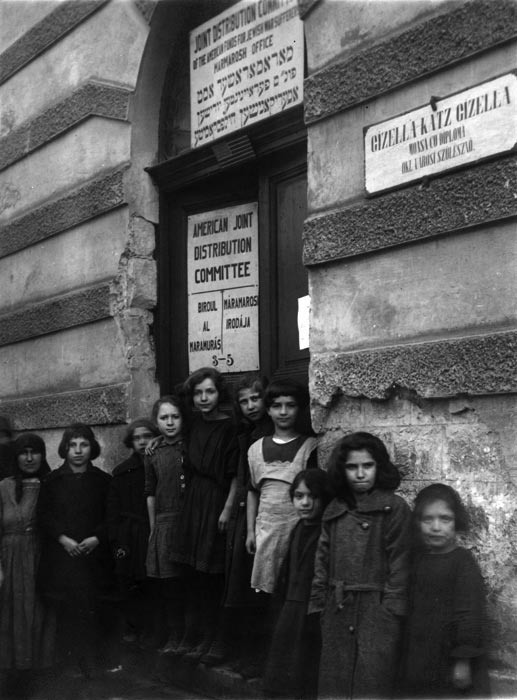 Orphans lined up for aid in front of the JDC office in Sighet, Romania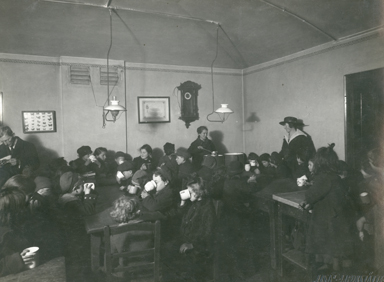 Refugee children at a milk station
A Joint Effort:
JDC's Beginnings, 1914–1921
World War I was catastrophic for Jews in Eastern Europe, already at risk from relentless poverty and prejudice, and for Jews in the Yishuv in Palestine, cut off from all support. To provide substantive help, American Jewish relief groups united to create a Joint Distribution Committee.
Everything Possible: JDC and the Children of the DP Camps
Featuring historic photographs from the JDC Archives, focuses on JDC's significant efforts on behalf of children in the displaced persons camps established by the Allied Armed Forces after World War II. JDC was permitted to enter the camps to supplement minimal provisions with critical nutritional, medical, educational, and religious services for survivors.